Wedding season is upon us. Hello to all my pre and post newlywed readers! Chances are you're ready to be done with the apartment lifestyle and eagerly searching for your first home.
As a veteran on the marriage and starter home fronts, I'll let you in on a few secrets:
You'll probably have your first big "married" argument over something really trivial in the house.
Everything will cost more than you expect, especially if you start remodeling.
You will live in a perpetual state of disarray and varying levels of chaos from hence forward. Whatev's! It's life.
Here are 5 ways you can make your starter home more you-ish without breaking the bank:
#1 Hang your wedding photos in the right layouts
Nothing makes a space feel small and cluttered more than random photos on the wall.
#2 Repaint and add wallpaper
Sold-colored walls need a pop of interest. Because companies like Thibaut have gorgeous wallpaper selections (I have a ton of their lookbooks!), adding a lovely print to your space is really a no-brainer at this point.
Removing the curtains makes your space feel bigger and brighter. Mixing neutrals (gray) with pastel accents (yellow), as shown below, upgrades your starter home from drab to fab on a tight budget.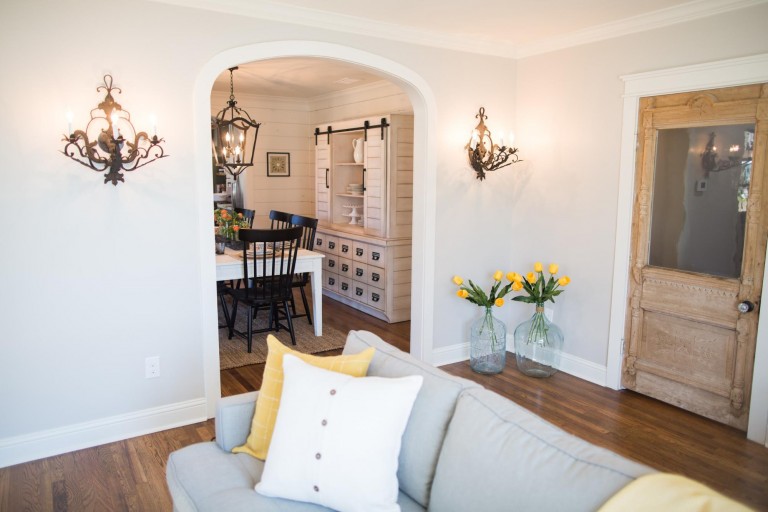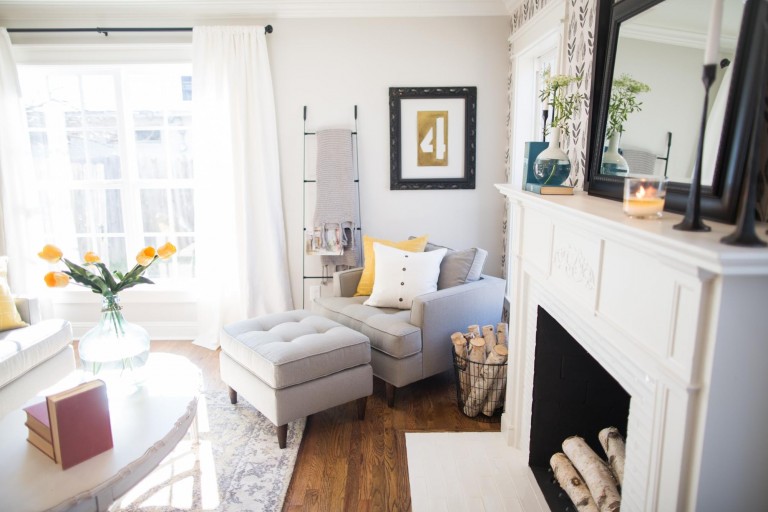 #3 Add decorative shelving and upgrade your window coverings.
Look at how DRAMATIC these before and after photos are! Lighting is everything, so make sure your window coverings aren't too dated or heavy for the space.
#4 Make the most out of your bedroom
Newlywed jokes and smirks aside, the bedroom does have a few OTHER uses. The longer you're married, the more you'll become aware. ;)
Your bedroom can become a haven, a den, a complete getaway from the outside world. Got a small space? Here are a few tips on how to max it out:
From design to construction, Maria Kovach and her full-service boutique interior design firm are here for you during each step of your design project. Simply Stated Interiors is located in Sun Prairie, Wisconsin. Contact her to discuss your project.